Slide 1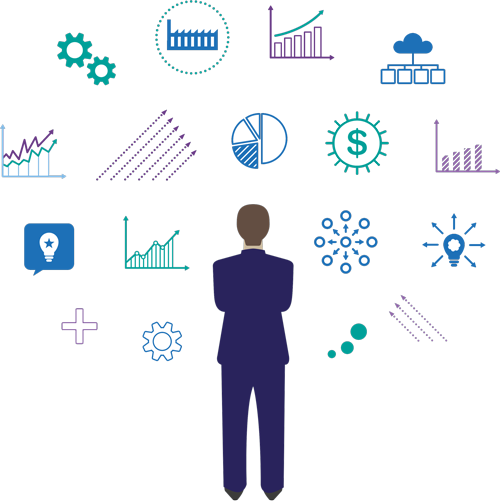 Industrial leaders are digitizing essential functions within their internal vertical operations processes, as well as with their horizontal partners along the value chain. In addition, they are enhancing their product portfolio with digital functionalities and introducing innovative, data-based services. Companies are expecting to dramatically increase their overall level of digitization. While just 33% rate their company as advanced today, that number jumps to over 70% looking ahead to 2020.
Our focus has been to help customers achieve their goals towards Digital Transformation in an accelerated fashion with smaller and focused teams that operate with the agility of a startup within the enterprise.
HEALTH CARE

The healthcare API market is expected to exceed more than US$ 234 million by 2024. Patient centric health care is a rising value based model for health care deliverance, which has resulted in an enhancement in greater patient satisfaction, better outcomes and care quality. Increasing center of attention on patient centric health care delivery by APIs has been well-known over the current past and the appearance of a host of services includes Remote patient monitoring and Wearable medical devices has driven the need for healthcare API solutions.
The healthcare API market majorly focuses on:
Medical device (Wearable)
Payments
Remote patient monitoring
Appointments Scheduling
Electronic health record (EHR) access
Our team have been engaged with various projects to address some of these challenges and use the new tools and technologies to provide an Integrated and seamless User Experience to our customers
INSURANCE

Global InsurTech market size will grow at a CAGR of more than 41%. However, the growth momentum of the market is expected to decelerate due to a decline in the year-over-year growth. It has become challenging to manage, monitor, and maintain the data in an organization owing to the increasing number of devices. Digitization for machine-to-machine (M2M) communications is expected to increase as it helps an insurance service provider to simplify the management, monitoring, and maintenance of connected devices. Enterprises also experience significant improvements in business processes with the adoption of fully digital procedures.
The InsurTech segments by value chain that are getting impacted are marketing and distribution, IT support, policy administration and management, claim management and across geography APAC, Europe, MEA, South America, and North America
Our teams have been involved with Insurance sector in providing innovative solutions that can help accelerate development of various products and solutions for faster go to market strategy and reliable execution
AIRLINES

Highly competitive and consumer driven industry is on a constant shift to drive product quality while offering a very compelling integrated set of options to customers.
We have been engaged with the Airline industry for last the 10+ years and been involved with projects such as:
Revenue Management
Employee Travel
Loyalty Programs
Planning and Logistics
Business Intelligence & Dash-boarding
Payroll consolidations using major ERP systems
Data Science & Analytics
API's and Integrations using major vendor products
Custom Software Development
LAW ENFORCEMENT

Rapidly changing technology with the focus on Security that can help connect video data from the field back to the command center for deep analytics and decision making.
Our team has helped build innovative solutions to integrate and manage Body Camera Video feeds from officers to the command center using cloud solutions such as AZURE Government and Office 365 (Addins)
EDUCATION

Online Education is drawing large amounts of funding and acceptance at the ground level from small classrooms to large universities. The technology for these tools and platforms comes from a variety of companies and institutions helping promote reach and faster independent learning.
Our team has been instrumental in developing and deploying Education Portals and Learning tools for colleges and Universities in the space of Higher Technical Education reaching Students, Tutors, Mentors from the Industry in an online collaborative model.